If you read nothing else this year, you HAVE to read The Shack by William P. Young.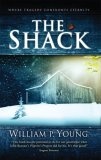 I am looking back on my blog and there has never been a time where I posted about a specific book here even though I am an avid reader. I picked this book up from the library yesterday evening. Since it was only a seven day loan because so many other people have requested it, I put down the book I was reading and started it right away.
I read half of it yesterday, and finished it this morning. I was in tears. Not gentle rolling tears, but sobbing and bawling. Many of you know that I had a troubled childhood. (We will leave it at that.) Through the years I have had a hard time not believing in God, but trusting in God. This book has made me understand so much about how what happened to me was not God's fault. Logically I knew that, but it was easier to go on blaming God. After I read this book I felt a weight lift off of my shoulders.
It is beautifully written, and so touching. I am recommending this book to anyone who will listen to me. It is a short book, with so much meaning contained between the covers.
Thanks for stopping by,
Hugs,
Heather